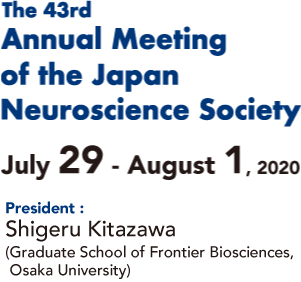 We will hold the meeting in an entirely new format. Please have a look at this introduction to video streaming. We welcome you to the virtual event.
You can view all presentation videos whenever you want repeatedly
In a conventional meeting, you are not able to attend talks given at the same time in different rooms. In this format, all presentations will be distributed all at once, not according to a timetable, and will be available throughout the period of the meeting (7/29 8:00 JST - 8/1 17:00 JST). You can watch the talk videos whenever you have time. Residents abroad could also binge-watch the talk videos regardless of the time difference.
Confidentiality of research is protected
The streaming site is a secured site where only pre-registered participants in the 43rd Annual Meeting of Japan Neuroscience Society can log in. Attendance is limited to the participants in the meeting just in the same way at usual meetings. Also, viewers will not be able to download the video files because they will be streamed. Please present your research with security.
Hold discussions with speakers
Each video on the streaming site is equipped with a messaging function. Once you send a message, you will be able to exchange e-mails with others and continue your discussion with speakers and viewers even after the meeting is closed.
How to create a presentation video
Please visit here to see how to create a presentation video.
How to stream videos
How to access the streaming site to view videos will be announced around early July.
Q&A: If you have any questions, please read the following.
News & Information
2020.07.01

2020.05.27

2020.05.22

2020.05.18

2020.04.16

2020.03.30

2020.02.16

2020.02.13

2020.02.05

2020.01.20

2020.01.09

2019.12.02

2019.11.26

2019.11.21

2019.10.09

2019.08.01

2019.07.25
Important Dates
Abstract Search System/App NEW!

To be launched on July 1, 2020

Presentation Videos Streaming Website NEW!

To be open July 29, 2020 8:00 JST - August 1, 2020 17:00 JST

Pre-registration

【Early bird】
December 2, 2019 - April 15, 2020 at 12:00 (JST)
【Late】
April 16 at 12:00 (JST) - July 9, 2020 at 17:00 (JST)

Presentation Video Upload

Deadline: June 30 at 17:00 (JST)