Video Streaming Site Guide
Presentation Videos Streaming Period:
July 29, 2020 8:00 JST – August 1, 2020 17:00 JST


The streaming site is accessible only to pre-registered participants in the meeting. Login ID and password will be sent by the meeting secretariat via e-mail on July 28.
Contact Information
7/29-7/31:06-6350-7163
8/1:080-4137-9165/080-4179-9243
Topics
About the Streaming Site
Videos are available on demand

All presentation videos can be watched anytime repeatedly during the streaming period. They are not distributed according to a timetable as talks are given in in-person meetings.
Logos
The following logos are displayed for applicable abstracts on the screen.

Industry-Academia Collaboration abstracts



Travel Award awardees' abstracts



Junior Investigator Poster Award awardees' abstracts
Prohibitions
Recording of presentation videos is prohibited.
Taking screen shots, audio/video recording, or using other devices (smartphone, etc.) to photograph/record the videos being played on the screen, or transfer/redistribution of such recordings are strictly prohibited.
Presentation videos are distributed based on the understanding and cooperation of the speakers. When you view the videos, we ask you for your cooperation.
How to Navigate the Streaming Site
Step 1: Log in to the streaming site
Step 2: Choose a speaker or a program

Step 3: Play the video

When you are not able to view the videos
Please go to the troubleshooting site and check the system requirements.
If you are using a tablet or any other mobile device, please read the QR code with your device to go to the troubleshooting site.
Discussions between Speakers and Viewers
Please use the question box on the screen to send a question or message to speakers to initiate a discussion. Your questions will not be published on the streaming site.
Discussions can be continued using your own email software after the meeting is closed.
Step 1: Viewers can send a question by entering it in the question box next to the video screen and clicking the "Send a Question" button.

<To senders> Please type in your email address you would like to receive a reply.
Step 2: The question will be sent to the speakers by the streaming site.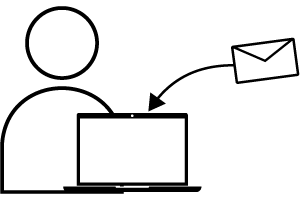 <To speakers> An email will be sent to the email address you registered when you submitted your abstract.
Step 3: Speakers will send an email back to the viewers.
Speakers are asked to read the question they have received and send a reply using their own email software.